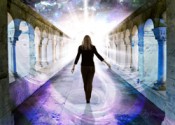 Mysteries of God depicts the mystical pursuit of the deep things of the Lord.
"It is the glory of God to conceal a thing, but the glory of kings is to search out a thing." Proverbs 25:2
As humans, we love when someone takes the time to really know us – our likes, our dislikes. There is such a beauty in being known. In the same way, the Lord desires to be known, and as we seek to know Him, He reveals not only Himself, but other hidden things as well. That's why one of His names is Gelah Raz, or the Revealer of Mysteries. He longs to share with us if we'll only take the time to seek.
In the image, above her head is a silk named after this Name of the Lord, Gelah Raz. The colors in it are black representing presence of God and mystery, soft gold representing honor, and purple halo shimmer representing double portion. The silk is prayed over and anointed with the Scent of Heaven's Abide oil. The scripture that goes with it is from John 15:4-5, "Abide in Me, and I in you. As the branch cannot bear fruit of itself, unless it abides in the vine, neither can you, unless you abide in Me. I am the vine, you are the branches. He who abides in Me, and I in him, bears much fruit; for without Me you can do nothing."
It is in that place of abiding that the Lord reveals Himself to us and where true revelation begins.
I pray that you would abide in Him and He in you. Ask, seek and knock, and don't be afraid to wait and press in. He is worth the pursuit.