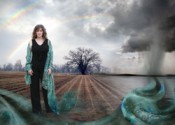 Stand Fast depicts the need to be steadfast in faith during adversity and the certainty of God's promises.
"Count it all joy… when you meet trials of various kinds, for you know that the testing of your faith produces steadfastness. And let steadfastness have its full effect, that you may be perfect and complete, lacking in nothing." – James 1:2-4
The silk in this image is River of Promise. The colors in it are turquoise representing the river of God flowing down, royal blue representing the prophetic word of the Lord, and dark chartreuse green representing new life and flourishing. This silk is prayed over and anointed with the Scent of Heaven's the Promise, which is used as a reminder that God is faithful to His promise – His word.
When we lose sight of His promises we lose hope – that opens a door for the enemy to bring havoc. So we must trust and wait and know He will fulfill His word. His promises are our anchor. We must hold onto them as such. Trusting Him brings strength, healing, promise, peace and comfort. And trusting Him is a form of worship.
The tree in this image is called the witness tree (because it withstood five massive earthquakes and a sand boil at the age of 120 years and is now over 300 years old.) It represents a determination to stand fast in the face of adversity. Because of the willingness to be steadfast, we see the floodgates of heaven being opened to its right as the river of promise pours forth – confirmed by the double rainbow, which is a reminder of God's promise (Genesis 9:13).
I pray that you would stand fast on the Lord's promises. Be immovable in your faith and trust in the Lord, for He is faithful and His promises will come to pass. Though it tarries, it tarries not. As you bear with Him long, He will suddenly open the storehouses of heaven to pour forth the fullness of His promises.