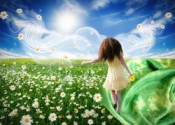 Sweet Aroma depicts the aroma of praise permeating the atmosphere.
"I will bless the LORD at all times; His praise shall continually be in my mouth. My soul shall make its boast in the LORD; the humble shall hear of it and be glad. Oh, magnify the LORD with me, and let us exalt His name together." – Psalm 34:1-3
Praise shifts the atmosphere. It is a reminder of the Lord's greatness and sovereignty, and it is a powerful weapon against the enemy. But the primary reason we should have for praising God is because He deserves it (Psalm 7:17). Praise should flow from our lives continually and unreservedly from a heart filled with gratitude and love for the One who first loved us. He truly is worthy!
The silk in this image is called a Praise in all the Earth. The colors in it are emerald green representing praise and off-white representing sweet aroma unto the Lord. It was anointed with the Scent of Heaven's Arise Arise Arise oil. This oil is all about moving the saints into action. It's time to give Him what He is due, lavish Him with praise!
I pray that your life would be a fountain of continual praise for our beloved Lord and that you would not let circumstances, fear of man, or self-centeredness keep you from giving Him the praise He's worthy of receiving.