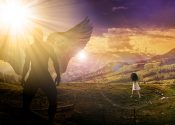 The Guardians depicts a commissioned holy one watching over and protecting his charge.
"The Angel of the Lord encamps around those who fear Him [who revere and worship Him with awe] and each of them He delivers." Psalm 34:7 (AMPC)

"He will command His heavenly messengers to guard you, to keep you safe in every way. They will hold you up in their hands so that you will not crash, or fall, or even graze your foot on a stone." Psalm 91:11-12 (VOICE)
The Lord protects His children (us), and often that protection comes in the form of angels sent to guard us as Psalm 34:7 reminds us (above in AMPC and here in NLT), "For the angel of the Lord is a guard; he surrounds and defends all who fear him." In scripture we hear the enemy complain about it when God protected Job, "Haven't You encircled him with Your very own protection, and not only him but his entire household and all that he has?" (Job 1:10a). And again in Matthew 18:10 (NLT), "Beware that you don't look down on any of these little ones. For I tell you that in heaven their angels are always in the presence of my heavenly Father."
This art is a reminder that the guardians are there. It also is a reminder that we have no idea how much they have protected us from that we know nothing of – disasters they've averted, lives they've saved, crises that never came to pass. And in situations where you feel you've been left unattended, keep in mind we have no idea if the situation could've been even worse. God deserve our thanks for His hosts and all they do on our behalf. He loves us and never leaves us.
The name of the silk in this image is In the Charge of Angels. The colors in it are light olive representing peace, dark grey representing fear of the Lord, and lavender representing the beauty of being known.
Father, thank You for Your protection. Thank You for Your heavenly hosts who guard and protect us. I ask that You would strengthen them and increase their wisdom and power, help us to remember You ALWAYS have us covered – no attack of the enemy takes You by surprise, even though it make take us by one. We trust ourselves to Your care and those who You ordain to carry out our protection. Give us wisdom to hear Your voice as You instruct us and lead us from evil and evil doers. No weapon formed against us will prosper. Thank You, Father!