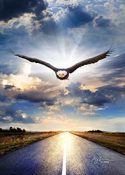 The Straight Path represents one soaring the straight path, eyes fixed on Him – the Author and Finisher of our faith.
"Let your eyes look directly ahead [toward the path of moral courage] And let your gaze be fixed straight in front of you [toward the path of integrity]." Proverbs 4:25 AMP

"Every valley and ravine shall be filled up, and every mountain and hill shall be leveled; and the crooked places shall be made straight, and the rough roads shall be made smooth;" Luke 3:5 (AMPC)

"In everything you do, put God first, and he will direct you and crown your efforts with success." Proverbs 3:6 (TLB)

Eyes fixed on Him; His ways, His word, His path – the path that has no turning – flying in righteousness and integrity, allowing Him to make the way smooth, our job simply to align with Him. A portion of the word called "Align Yourself with Me" from June Reinke of Prophetic Light is connected to this piece, "Align yourself with Me, says the LORD. Let Me be your greatest desire and come boldly into agreement with Who I Am and what I Am doing and How I Am directing you. For you are NOT in charge of your destiny. I AM! I made you for a specific purpose and I have good plans for you. They are never wrong, never failing and never disappointing. You will be completely satisfied with the way that I make for you in all things. DO NOT PICK AND CHOOSE like a child that picks up his fork and pushes certain things aside on his plate that look foreign to him and are distasteful. I put things there for you to partake of even though they are strange to you and do not have a familiar aroma and flavor. I will always supply your need, but you have to eat what I give you, says the LORD. Trust that I will fully furnish you onto every good work, says the LORD… MY WORD and MY WILL and MY WORK are in agreement and always good. Pick up your fork and eat the good things that I give you and let them bring you new growth and development for what I AM preparing for you. Taste and see that I Am GOOD! What I have is good for you, and you will be blessed and have good success as you simply follow ME, says the LORD."
The name of the silk hidden in this image is God's Creation and His Highness. The colors in it are black representing essence of God, midnight blue representing the deep mysteries of God, and gold representing throne room of Heaven.
Thank You Father that You bring the great mysteries to light. As we follow You (even when we don't understand), You bring forth Your perfect will and it is beautiful. We don't have to understand, we simply have to obey – align ourself with Your plan, Your will, and walk the path You have prepared before us. Soar. Soar in Your righteousness. We trust You. We yield to You. We align with You.