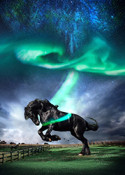 The Breaking depicts our resistance to the "breaking" from our Lord who is reining us in.
"Do not now be stiff-necked as your fathers were, but yield yourselves to the Lord and come to his sanctuary, which he has consecrated forever, and serve the Lord your God…" 2 Chronicles 30:8 ESV
We constantly fight yielding to the Father, convinced we are better able to take care of our own needs. And yet, like with the horse, a good master desires to shelter and nurture us; provide food (even in lean times); and gently keep us within the boundaries that are best for us.
A good master "breaks" a horse by earning trust. The breaking process isn't painful to anything but our own sense of control which must be yielded to receive the blessings the Master has in store for us. We must choose: rebel or yield.
The silk in this image is called Yielded. The colors in it are plum blossom representing intimacy, light turquoise representing healing and life-giving flow of the Holy Spirit, chartreuse green representing flourishing, midnight sea for cleansing, and white for pearl of great price.
Father help us to choose wisely, to choose You. May we realize that though we may feel like we do "ok" on our own, we would flourish in Your tender care. Have Your way.