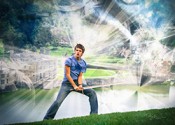 Noble & Steadfast depicts a watchman not growing weary in the battle – remembering what we're fighting for is worth the effort and we are not alone.
And let us not lose heart and grow weary and faint in acting nobly and doing right, for in due time and at the appointed season we shall reap, if we do not loosen and relax our courage and faint. Galatians 6:9 (AMP)
The battle in this season has been intense, but you are not alone – the LORD of Hosts (YHVH Sabaoth) – is with you always to the end of the age (Matthew 28:20). Do not grow weary, but rally your strength and remember the territory you are battling for is well worth the effort.
Valiant warrior, your King fights with you in battle. Listen, heed, His direction, His call, His voice, and His battle shout. Be noble and steadfast. Watch for His standard, keep Him always in sight. He will cause you to triumph; He will cause you to be victorious.
This silk in this image is called Watchmen. The colors in it are light blue representing open heaven, cobalt representing prophetic, and khaki representing acceleration. This silk is all about an alertness and great urgency in this season.  This alertness is characteristic of those who will wait with the Lord and not slumber. It is to those He shares His secrets, for they can be trusted.
Father, gird us up with Your strength that we might not relax our courage or grow faint. But that we might fix our gaze on Your promise and trust in the appointed season we WILL reap if we remain steadfast. May our strength be wholly in You.