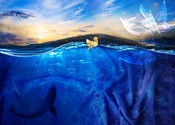 He is for Us depicts a vulnerable young one being protected from dangers he is completely unaware of by the Hosts of Heaven.
"…If God is for us, who can be against us?" Romans 8:31
The name of the silk in this image is Abundant Peace. The colors in it are plum representing abundance, sky blue representing grace, royal blue representing shalom, and white representing peace.
This image depicts Psalm 91 in action. The Heavenly Hosts – having been commanded by the Lord of Hosts (Psalm 91:11) – are ensuring you shall not even strike your foot against a stone (Psalm 91:12).
"For he will deliver you from the snare of the fowler and from the deadly pestilence. He will cover you with his pinions, and under his wings you will find refuge; his faithfulness is a shield and buckler. You will not fear the terror of the night, nor the arrow that flies by day, nor the pestilence that stalks in darkness, nor the destruction that wastes at noonday." Psalm 91:3-6
Father, we thank You for Your protection over us. We thank You that You are FOR us. Who can stand against You?  We trust You and rest in Your protection and love.