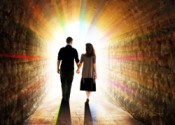 Possibilities depicts a couple walking into the possibilities and promises of their future, the wife in step with her husband and trusting him to lead as he is lead by the Lord.
"Wives, submit to your own husbands, as to the Lord. For the husband is the head of the wife even as Christ is the head of the church, his body, and is himself its Savior. Now as the church submits to Christ, so also wives should submit in everything to their husbands." Ephesians 5:22-24
The silk under their feet is called Cherished Bride. The colors in it are white representing pure-hearted bride, cream representing milk and honey, sand representing walking in unity, and pearl shimmer representing purity.
Rays of rainbow-colored promises burst around them as they walk together in unity, her eyes on him as he listens to the promptings of the Lord directing him as he leads his beloved into the fullness of all they are called to. He honors the Lord by trusting Him and following, just as she honors both God and her husband by trusting his ability to hear and be led.  And the Lord honors their obedience to His word and blesses their home and the union with peace and promise.
I pray that you would step unafraid into your God-given position, trusting the Lord's ability to teach and draw each of you in the way that He sees is best for you. His love for you is beyond comprehension and He will protect and guide you always.