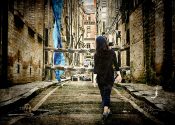 Hedged In depicts our tendency to wander away from the Lord while He ardently pursues us.
"Therefore I will hedge up her way with thorns, and I will build a wall against her, so that she cannot find her paths." – Hosea 2:6
We deeply wound the Lord in our betrayal of Him, yet the Lover of our souls seeks to keep us from our own poor choices because they wound us as well.
He is constantly hedging us in and nudging us towards right choices – towards Him (Hosea 2:7b). Just as a good parent would keep an infant from playing with sharp knives, the Lord is constantly trying to protect us from making bad choices though in His love for us He allows us the freedom to do so. And even in our unfaithfulness, His heart of love remains true as He provides without our even knowing or acknowledging (Hosea 2:8).
The silk in this image is Fiercely Jealous Lover. This name comes from James 4:5 MSG "The proverb has it that 'He's a fiercely jealous lover.' And what He gives in love is far better than anything else you'll find." The colors in it are turquoise (warfare) and black (presence of God). This scarf embodies His passionate love for us. It speaks of how deeply He covets our time and our hearts — and His willingness to fight for us. He (a mighty warrior) and us (His precious love), the one He has laid down His life to save.
I pray that your heart would be faithful and quick to respond to His nudges, that you would be unwilling to compromise or try to share your attentions and give the Lord second best, and that you walk in the fullness of the romance the Lord is continually drawing you deeper and deeper into for the rest of your life.