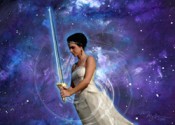 Wait Upon the Lord is a visual reminder that we are to pause and seek the Lord's direction – refusing to take action without it.
We see the warrior bride, prepared for battle, awaiting instruction. The Holy Spirit swirls around her middle speaking Spirit-to-spirit. Psalm 25:3a says, "Indeed, none who wait for You shall be put to shame…"
The scene pictures the lull and the solitude that comes as we wait. For people of action the waiting can often seem like torture, and yet waiting is not a passive activity, but an active one: seeking, listening, confirming… waiting.
Surrounding the warrior bride is a scarf called Hovering Presence. This scarf is created in an unusual fashion. It is first a design about praise – yellow (joyful praise) and coral (contrite heart) at the center and flowing out is turquoise (healing) surrounded by white (overcoming), and edged in purple (promises of God). Then secondly, the scarf is over-dyed in purple – this time representing abundance and black representing the hovering presence of the Lord (Psalm 18:11 "He made darkness His secret hiding place; as His pavilion [His canopy] round about Him were dark waters and thick clouds of the skies."). Finally, the scarf is shimmered in pearl representing angelic presence.
I pray that you would take the time to wait upon the Lord, that you would sense the hovering of His Spirit as He speaks to you, that you would not move without His direction, and that you who wait would not be ashamed.