SHOP NOW for a Dyed4you Art flag
Our Dyed4you Art flags are microfiber polyester with a slightly transparent effect (making the design visible on both sides though more vivid on the "front" side) with a solid weight and smooth touch. They are approximately 55×55" each and have hemmed edges and a color-coordinated grosgrain ribbon has been sewn on to a portion of one side that houses our "bendie" rod and includes a handle area.
You can find our Dyed4you Art flags in our Etsy store or you can request one of our other pieces be made into a Dyed4you Art flag for an additional fee or commission a new one.
See available Dyed4you Art flags on Dyed4youReadymade.com
View / purchase a Dyed4you Art flag in our Etsy store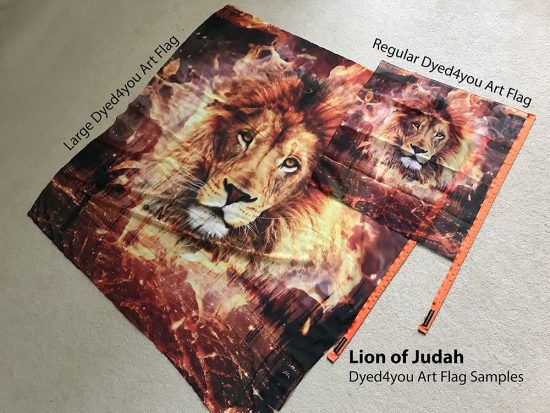 We've also offer a smaller kid-sizes Dyed4you Art flag that is 25″x25″ (if you don't see it in the style you're looking for, just send us a note). Our regular Dyed4you Art flags are a different material and edging than our large flags with their transparent poly voile and a serged edge. Available with a standard 33″ rod or kid-sized 29″ rod.
View/Purchase a Dyed4you Art kid-sized flag
Special Order Dyed4you Art Flags