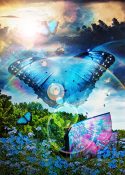 Grace Full Transformation reminds us that it takes time for transformation. To walk it out requires grace and a trust in the process (primarily in the One leading it). Just like the caterpillar has to be in the chrysalis for a time before being transformed into a butterfly, there is a time of rest and a giving of grace and trust that the transformation will occur, and that when it does the abundance of beauty and strength will fill the atmosphere with God's glory.
Isaiah 49:15 (NKJV) Can a woman forget her nursing child, And not have compassion on the son of her womb? Surely they may forget, Yet I will not forget you.
Philippians 1:6 (VOICE) I am confident that the Creator, who has begun such a great work among you, will not stop in mid-design but will keep perfecting you until the day Jesus the Anointed, our Liberating King, returns to redeem the world.
Isaiah 54:10 (VOICE) Even if the mountains heave up from their anchors, and the hills quiver and shake, I will not desert you. You can rely on My enduring love; My covenant of peace will stand forever.