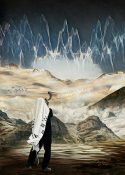 Make a Sound depicts the one called to release the sound and its impact spreading throughout the heavenlies shifting the atmosphere.
Joel 2:15, 23, 28-29 (VOICE) Blow the trumpet in Zion; set apart a time for fasting; tell everyone to be still and stop working.

People of Zion, shout with joy and happiness in the Eternal, your God; The drought is over; He has sent the early autumn rain as a sign of His faithfulness. He has poured down heavy rain, autumn and spring, as before.

Then in those days I will pour My Spirit to all humanity; your children will boldly and prophetically speak the word of God. Your elders will dream dreams; your young warriors will see visions. No one will be left out. In those days I will offer My spirit to all servants, both male and female.