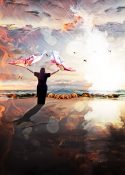 Paniym (H6734) [Face or Presence] representing that those who have a "face to face" or "presence to presence" relationship with God learn from Him directly. They dwell in intimacy, learn from Christ, and eat from the hand of God. They can truly say, "Imitate me as I imitate Christ".
1 Corinthians 11:1 (NKJV) Imitate me, just as I also imitate Christ.

Exodus 33:9-11 (NKJV) And it came to pass, when Moses entered the tabernacle, that the pillar of cloud descended and stood at the door of the tabernacle, and the LORD talked with Moses. All the people saw the pillar of cloud standing at the tabernacle door, and all the people rose and worshiped, each man in his tent door. So the LORD spoke to Moses face to face, as a man speaks to his friend. And he would return to the camp, but his servant Joshua the son of Nun, a young man, did not depart from the tabernacle.