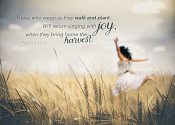 Harvest Joy reminds us to persist in our labors for the harvest will surely come bringing with it joy and abundance.
Psalm 126:6 (VOICE) Those who weep as they walk and plant with sighs Will return singing with joy, when they bring home the harvest.

Psalm 30:4-5 (VOICE) Sing, all you who remain faithful! Pour out your hearts to the Eternal with praise and melodies; let grateful music fill the air and bless His name. His wrath, you see, is fleeting, but His grace lasts a lifetime. The deepest pains may linger through the night, but joy greets the soul with the smile of morning.