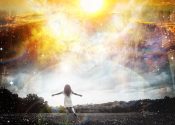 God of Wonders depicts a worshipper transfixed in adoration of the One who is worthy of all praise.
Psalm 40:5 (NASB) Many, O Lord my God, are the wonders which You have done, And Your thoughts toward us; There is none to compare with You. If I would declare and speak of them, They would be too numerous to count.

Psalm 40:5 (CJB) How much you have done, Adonai my God! Your wonders and your thoughts toward us — none can compare with you! I would proclaim them, I would speak about them; but there's too much to tell!