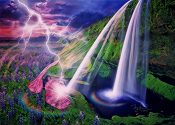 Blooming Faith reminds of the importance of persisting in the face of trails, knowing that the Father has not forgotten us but is cultivating and increasing our faith in the process.
1 Corinthians 12:7-9 (VOICE) Each believer has received a gift that manifests the Spirit's power and presence. That gift is given for the good of the whole community. The Spirit gives one person a word of wisdom, but to the next person the same Spirit gives a word of knowledge. Another will receive the gift of faith by the same Spirit, and still another gifts of healing—all from the one Spirit….

Acts 14:8-10 (TPT) In Lystra, Paul and Barnabas encountered a man who from birth had never walked, for he was crippled in his feet. He listened carefully to Paul as he preached. All of a sudden, Paul discerned that this man had faith in his heart to be healed. So he shouted, "You! In the name of our Lord Jesus, stand up on your feet!" The man instantly jumped to his feet, stood for the first time in his life, and walked!
Hebrews 11:32-35 (NKJV) And what more shall I say? For the time would fail me to tell of Gideon and Barak and Samson and Jephthah, also of David and Samuel and the prophets: who through faith subdued kingdoms, worked righteousness, obtained promises, stopped the mouths of lions, quenched the violence of fire, escaped the edge of the sword, out of weakness were made strong, became valiant in battle, turned to flight the armies of the aliens. Women received their dead raised to life again. Others were tortured, not accepting deliverance, that they might obtain a better resurrection.