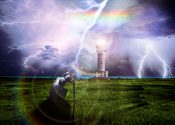 Anointed for War: Knight Light reminds us that we are empowered from on high, called to be His light bearers and to break through the darkness.
Isaiah 60:1-2 (TLB) Arise, my people! Let your light shine for all the nations to see! For the glory of the Lord is streaming from you. Darkness as black as night shall cover all the peoples of the earth, but the glory of the Lord will shine from you.

Luke 24:49 (TPT) And I will send the fulfillment of the Father's promise* to you. So stay here in the city until the mighty power of heaven falls upon you and wraps around you." (*The Aramaic reads "the kingdom" or "rule." The Father's promise would be the coming of the Holy Spirit to live in them and empower them.)
John 1:4-5 (VOICE) His breath filled all things with a living, breathing light – a light that thrives in the depths of darkness, blazes through murky bottoms. It cannot and will not be quenched.
Psalm 18:12-14, 21, 28 (VOICE) Out from His brilliance hailstones and burning coals broke through the clouds. The Eternal thundered in the heavens; the Highest spoke; His voice rumbled [in the midst of hail and lightning]. He shot forth His arrows and scattered the wicked; He flung forth His lightning and struck them. I kept the ways of the Eternal and have not walked away from my True God in wickedness. You are the lamp who lights my way; the Eternal, my God, lights up my darkness.
Matthew 5:16 (VOICE) You are like that illuminating light. Let your light shine everywhere you go, that you may illumine creation, so men and women everywhere may see your good actions, may see creation at its fullest, may see your devotion to Me, and may turn and praise your Father in heaven because of it.
Psalm 139:12 (NKJV) Indeed, the darkness shall not hide from You, But the night shines as the day; The darkness and the light are both alike to You.