Today's release is one that was created less than 48 hours ago. When it was complete a couple of us from the Dyed4you Art team starting getting an immediate download. We still aren't entirely certain why Papa had such an urgency for this piece, but I'm excited to introduce Harvest Light.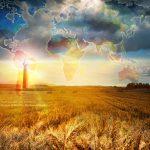 This piece was inspired by a proprietary Commissioned Art piece I created for a ministry called Woman of Worship, Word and Wonder. They've used this piece as a backdrop for their livestreams and as branding on their flyers and social media (see below). I loved this piece so much so I suspected I'd be inspired to make another along a similar theme.
Thus Harvest Light was born. I hope the art and its word bless you!
Read the full word for Harvest Light