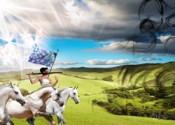 More With Us depicts a battle scene – the warrior bride riding into battle to assert the Lord's victory.
Like Elisha in the story of the Arameans in 2 Kings 6, though the enemy appears to be strong in number, our bride's eyes are open to the assistance of the heavenly hosts. "Do not be afraid, for those who are with us are more than those who are with them." (2 Kings 6:16)
Verse 18 goes on to show Elisha asking the Lord to strike his enemies with blindness. The verse ends by saying, "…So He struck them with blindness in accordance with the prayer of Elisha." This brings to mind John 15:7, "If you abide in Me, and My words abide in you, ask whatever you wish, and it will be done for you." (This is what we see our bride doing in the earlier Warrior Bride series image, Wait Upon the Lord.)
The banner with the warrior bride is The Violent Take it by Force. The colors in it are turquoise representing warfare, dark teal representing increase, purple representing kingdom authority, and white representing victory. The scripture that goes with this silk is from Matthew 11:12, "And from the days of John the Baptist until the present time, the kingdom of heaven has endured violent assault, and violent men seize it by force [as a precious prize–a share in the heavenly kingdom is sought with most ardent zeal and intense exertion]."
I pray that your eyes would be open to see the heavenly hosts at your side in the battle. And that you would take the time to abide and then walk in the authority that brings. Your victory is assured!